Experienced. Agile. Diverse Enrollments.
Your Premier Partner for Clinical Research.
DM Clinical is a network of investigator sites. We are headquartered in Houston, TX and have a growing presence in the South, Midwest and Northeast. With centralized startup, contracts and budget services, we can get a site up and ready within 30-45 days. The trials are conducted by our own trusted physicians as the Principal Investigators. They are passionate about the research process and specialize in a wide variety of therapeutic areas. With a team of dedicated recruiters, and experienced coordinators and site managers, we take pride in making sure that we can meet or exceed sponsor expectations.
DM CLINICAL BY THE NUMBERS
4.7 Days
Reg Doc/IRB
Submission Time
1.2 Days
Feasibility Turnaround Time
17 Years
of organized & reliable experience
135+
Dedicated Patient Recruiters
21 Days
From
award to FIP
Infectious Diseases
HIV, Flu, Chickenpox, MMR, HPV, HiB, Hepatitis B, Pneumonia, C. Difficile, RSV, Pertussis, DTaP/TDaP, Meningitis
General Medicine
Hypertension,
Obesity, Pain
Pediatrics
Vaccines, Migraine,
Asthma, Influenza, RSV
Endocrine and Metabolism
Type-I, Type-II Diabetes,
Hypercholesterolemia
Pulmonology
Asthma, COPD, Chronic Respiratory, Lung
Rheumatology
Rheumatoid Arthritis, Psoriatic Arthritis, Osteoarthritis
Women's Health
Maternal, Menopausal,
Contraception, STDs
Gastroenterology
Crohn's Disease, Ulcerative Colitis,
Colonoscopy Studies
Neurology
Migraine, Alzheimer's, Epilepsy,
Cognitive Impairment
Psychiatry
Schizophrenia, OCD,
PTSD, Depression
Past successful outcomes at a glance
We have successfully completed over 1,000 studies and have enrolled more than 15,000 patients.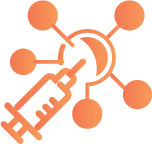 4000+ Patients enrolled in COVID trials
(>40% minority participation)
in 2020
Flu Study
110 enrolled in Flu Vaccine in 3 weeks. Retention 99%; e-Diary compliance 100%
Vaccine Study
Randomized 164 vaccine patients during the pandemic. The retention rate of 100%. e-Diary Compliance: 99%
Brand-new MEGA Pediatric/Adolescent Site
First patient enrolled <30days. (Enrollment: Month 1=100. Month 2=325.) Highest US enrollment.
Diabetes Study
Enrolled 36 with a
goal of 10 and
34 completed
RSV Study
264 randomized in elderly RSV trial in 23 days – goal was 190 – retention 92%
HIGHLY TARGETED RECRUITMENT
Enormous Patient Database.
Dedicated Bilingual Recruiters.
With dedicated call centers throughout the greater Houston area, DM Clinical simplifies recruitment, screening, consenting, retention, and follow-up processes for clients and participants alike.
Every site in the network is also supported by full-time recruitment specialists to drive local outreach. DM Clinical sites are located in demographically diverse areas to support minority participation in clinical trials.
Even for high-volume and hard-to-recruit research programs, DM Clinical often exceeds enrollment and retention targets.
Advancing medicine through innovation and dedication.